Update
Arrival of Eindhoven Airport in Eindhoven style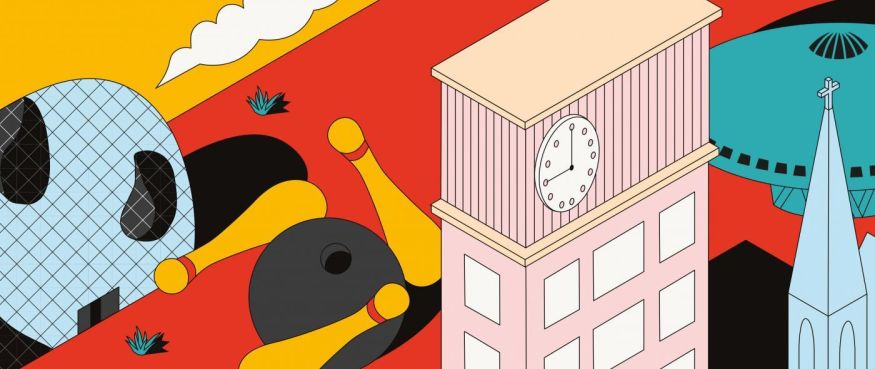 Since the beginning of November, passengers at Eindhoven Airport can get a taste of the city before even stepping outside. In the arrivals hall, they are welcomed by three large banners, all in Eindhoven style.
For the next two years, Eindhoven365 has been given the opportunity by Eindhoven Airport to decorate the Arrivals Hall with Eindhoven branding. The branding consists of a triptych used to inspire both visitors of Eindhoven and passengers with Eindhoven as a layover. For the latter group, the banners serve as an extra opportunity to convince them to visit Eindhoven next time.

Vibrant design
Passengers (visiting/returning) landing at Eindhoven Airport consists of Leisure and Business travellers and VFR visitors (visiting friends and relatives). The banners are located on the wall in the long corridor towards the exit. We chose a striking design that reflects the city's energy, creativity, and innovation. In addition, recognizable landmarks such as the Blob, Evoluon, and Klokgebouw offer the passenger a glimpse of the city. The design also includes a QR code with CTA (call to action) to thisiseindhoven.com. The design was created in collaboration with design studio George & Harrison and illustrator Johan Moorman. Vormgenoten installed the banners.

Eindhoven as a Metropolitan Region
Eindhoven Airport has been focusing more and more on Eindhoven as a metropolitan region. Maurits de Beer, Manager Aviation Development & Partnerships Eindhoven Airport, says the following on the topic: "The purpose of Eindhoven Airport is to make the region even better, we do this based on four strategic pillars: connector with the world, dignified entrance, good neighbour, and testing ground for innovation. This new strategy is no longer a goal to focus on growth but on offering quality and added value to the region. Looking at the region's needs, we see that in addition to the potential of the business market, the incoming visitor also needs a little more impulse, which is why we like to work together with Eindhoven365 to serve this market better. In this way, other stakeholders in the region (such as hotels, restaurants, and attractions) will benefit even more from the role we play as an airport".