Update
Queen Máxima visits designers in Eindhoven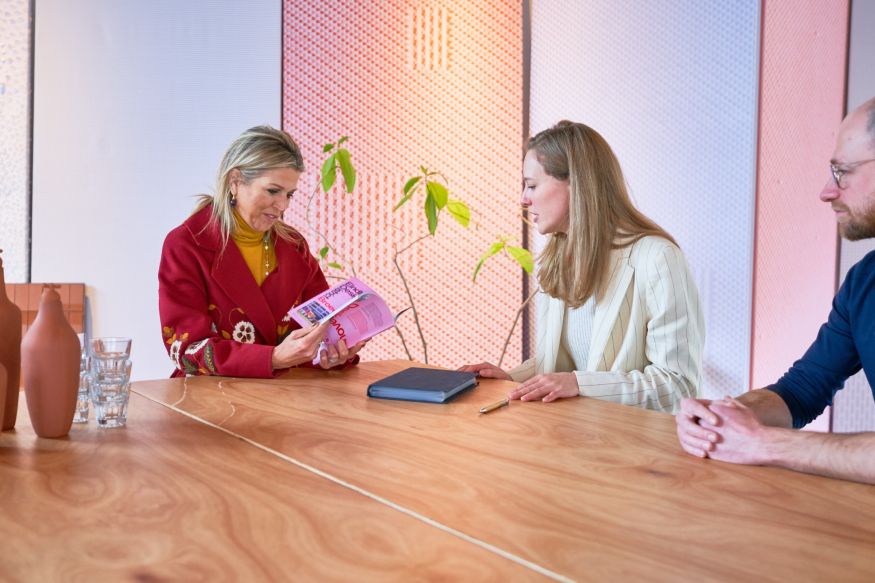 Today, Queen Máxima paid a working visit to designers in Eindhoven. The visit focused on how a close-knit network of designers and creative incubators in Eindhoven Design District contributes to the international position of Dutch design.
NUL ZES
The queen first visited NUL ZES on the NRE site. NUL ZES is a designer collective and creative laboratory for designers, architects, and researchers. Among others, Queen Máxima met NUL ZES founder Renee Scheepers and designers Alissa van Asseldonk and Nienke Bongers of studio Alissa+Nienke, who do their material and form research at NUL ZES.
Kazerne
Afterward, the queen visited Kazerne, an exhibition space with a design hotel and two restaurants. Kazerne provides a stage for the creative industry through meetings, exhibitions, and crossover projects. Máxima spoke with initiator and designer Annemoon Geurts and with designers, including many Design Academy alums and representatives of companies from Eindhoven. Wisse Trooster led the table discussion on preparing for a good presentation during Milan Design Week 2023, among other topics.