Case
Sustainable tourism exhibition DDW 2022
Campaign
Verduurzaming van toerisme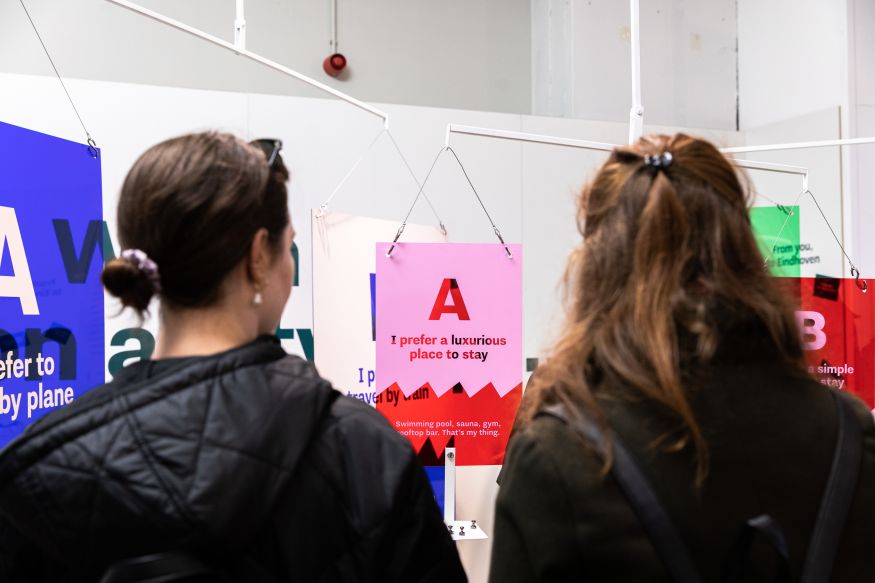 The question

How can we have an open conversation with the target audience about a sustainable city trip?

Our solution

Have an interactive installation as a conversation starter at an event popular among the target group: Dutch Design Week. With this, we introduce and question city explorers in an accessible way about themes within a sustainable city trip.
In numbers
35.000+

visitors

9

statements

76

postcards
Strategische lijn
Deze case past binnen onze strategische lijn: "Verduurzaming van toerisme".
Bekijk strategie
As a city marketing organization, one of our goals is to make tourism more sustainable. The first step: taking stock with the help of the target group. To introduce and discuss the subject of sustainable tourism, George & Harrison and the Reuringdienst set to work on an interactive installation. The installation was used as a conversation starter during the exhibition on sustainable tourism during Dutch Design Week 2022.
Eindhoven has grown as a city trip destination in recent years. But how do we improve the balance between economic, social, and ecological impact? We can only do that with the visitors to Eindhoven. Dutch Design Week is a much-visited event and an undiminished popular event among Eindhoven tourists, better known as City Explorer. The perfect opportunity for us to start the conversation.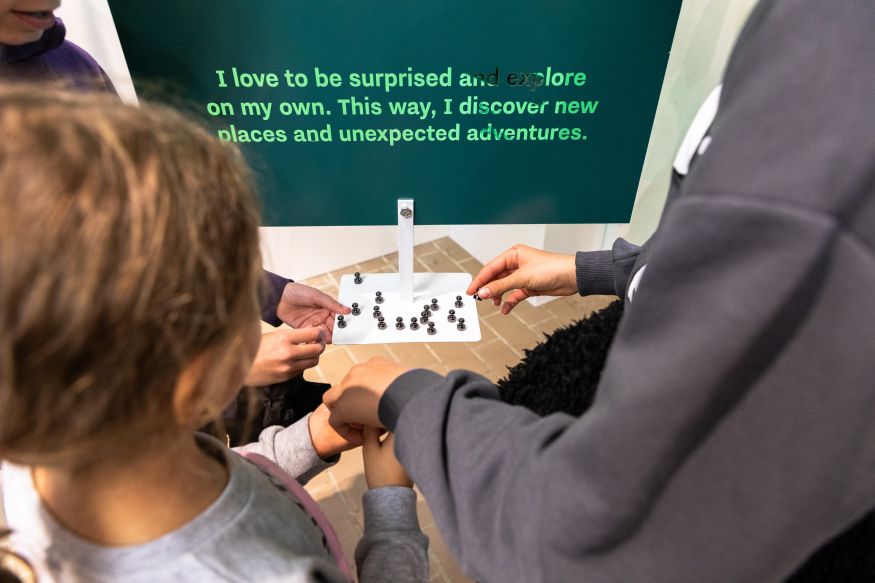 If I go on a city trip ...
Using various statements, we questioned the visitors' views on a sustainable city trip. A weight was attached to each choice. So at the end of each day, we had several insights about the target group's needs, wishes, and challenges. The options are not necessarily right or wrong; they only indicate a preference. The dilemmas were about all kinds of themes within sustainable travel. For example, 'would you rather travel by train?' or 'would you rather travel by plane?' Or 'would you rather discover the city on your own or 'would you rather discover your city with the help of a local?'

Greetings from Eindhoven
Visitors who wanted to leave a tip, wish, or (sweet) message to Eindhoven could do so using a postcard.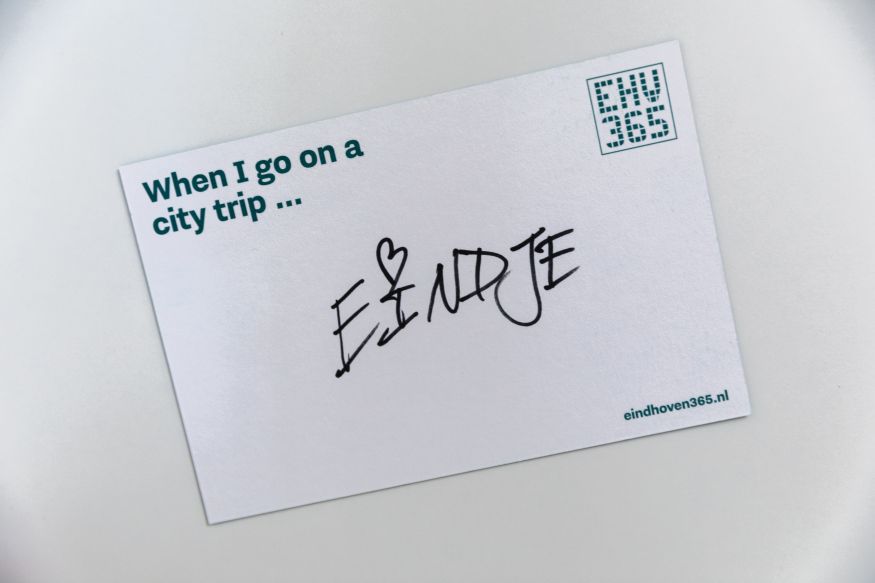 Dutch Design Week is an interactive testing ground for social experimentation.
The power of design
Since the founding of Eindhoven365, we have seen the importance of collaborating with the design community. We aim to involve design professionals even more in the city's transformation. After all, design thinking helps us translate social challenges into human solutions. During Dutch Design Week 2022, we created an interactive installation to apply design research actively, in collaboration with several designers,

Reach
With around 350,000 DDW visitors from near and far, the nine-day design fest is the perfect time to question the target audience. Both thisiseindhoven.com and DDW.nl provided information about the exhibition. The expo was located at Yksi Expo at Strijp-S and attracted between 35,000 and 40,000 visitors; this resulted in 76 postcards and countless conversations.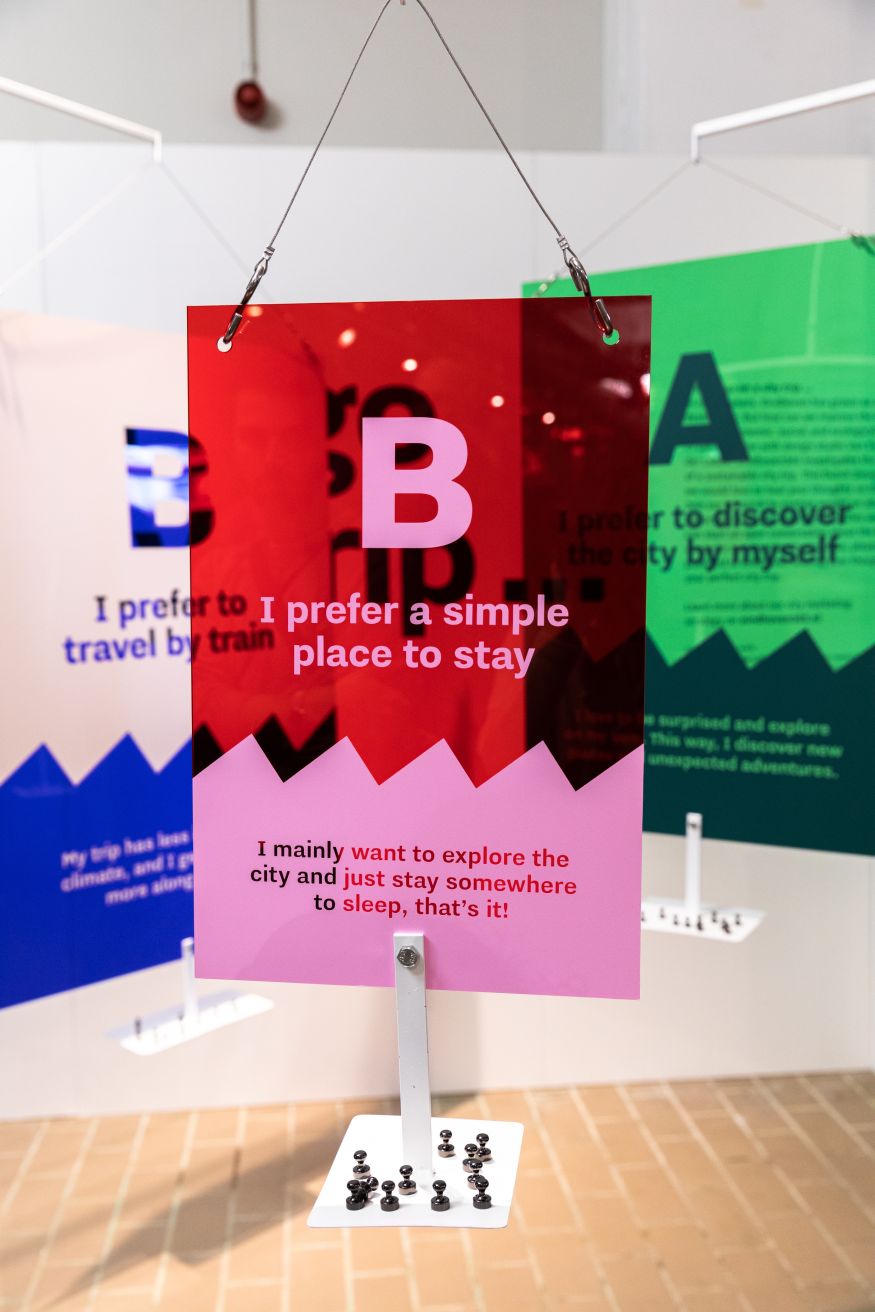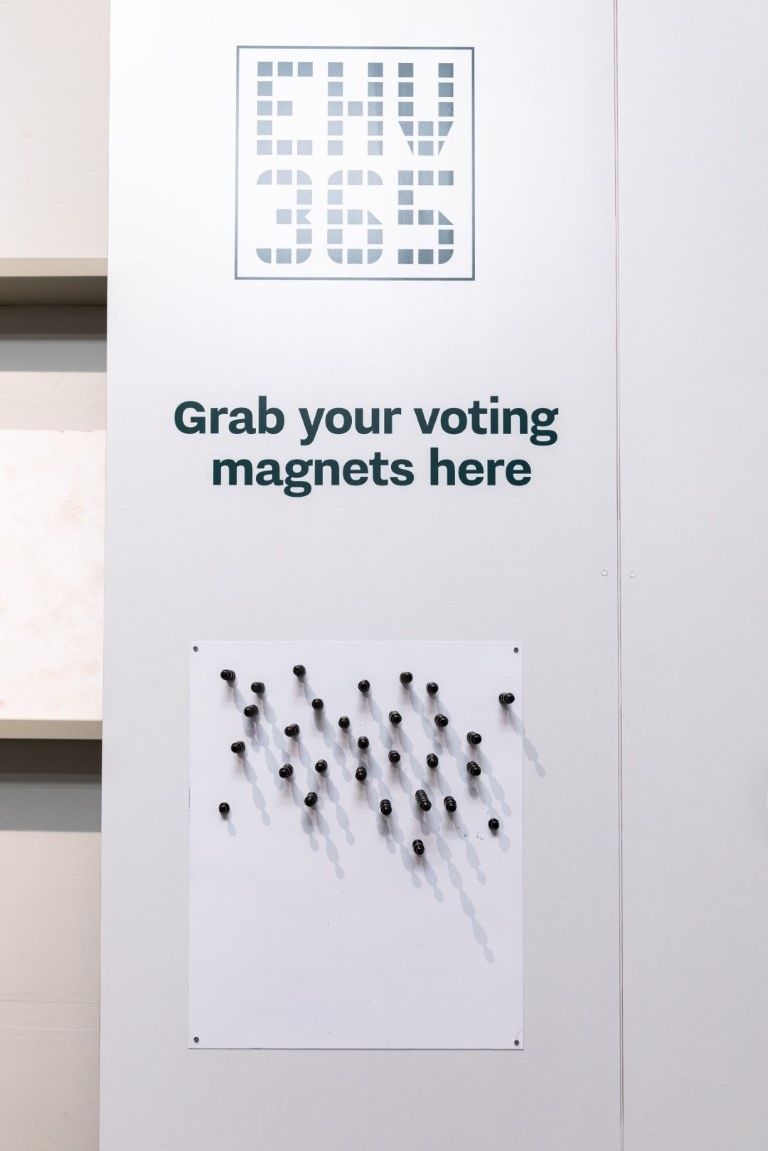 Partners
This project is part of a long-term collaboration with the design duo Van Eijk & Van der Lubbe, in which we are working on our design research in connection to our strategy: making tourism more sustainable. In line with our tourism website thisiseindhoven.com, George & Harrison designed the concept and graphic elements of the exhibition. De Reuringdienst supported them in the practical implementation of the design.