Update
DDW exhibition: How can we make tourism more sustainable?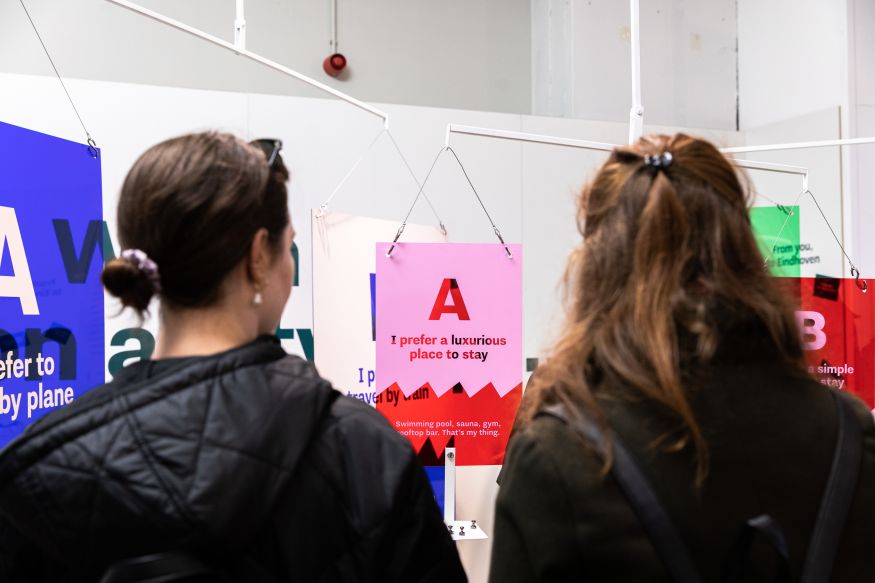 In recent years, Eindhoven has grown as a city trip destination. But how can we improve the balance between economic, social, and ecological impact? During DDW 2022, Eindhoven365, in collaboration with visitors, explores the sustainable city trip through an interactive installation at Yksi Expo.
Eindhoven365 at Dutch Design Week
During Dutch Design Week, the city bursts with design and visitors. One of our target groups is fully present: the city explorer, our tourist target group. For us, the perfect opportunity to join them in their search for a vision of sustainable tourism and to put our tourism strategy into practice. The expo 'How can we make tourism more sustainable' is part of the more extensive design process for our program line 'making tourism more sustainable.'
If I go on a city trip …
We question the visitor's vision of a sustainable city trip using various dilemmas. Each choice carries a weight: this gives us more insight into the travel behavior of the visitor and creates space for an open conversation. We get to know the target group's needs, wishes, and challenges and engage in hands-on and design-based experimentation. Like to learn more about our DDW exhibition? Check the Dutch Design Week website.
Collaboration
George & Harrison is responsible for the design and graphic elements of the expo. De Reuringdienst helped them with the implementation of the design. For the long-term design process, we are working with design duo Van Eijk & Van der Lubbe.