Update
NBTC launches destination campaign starring Eindhoven: 'Bring Yourself. We'll do the same.'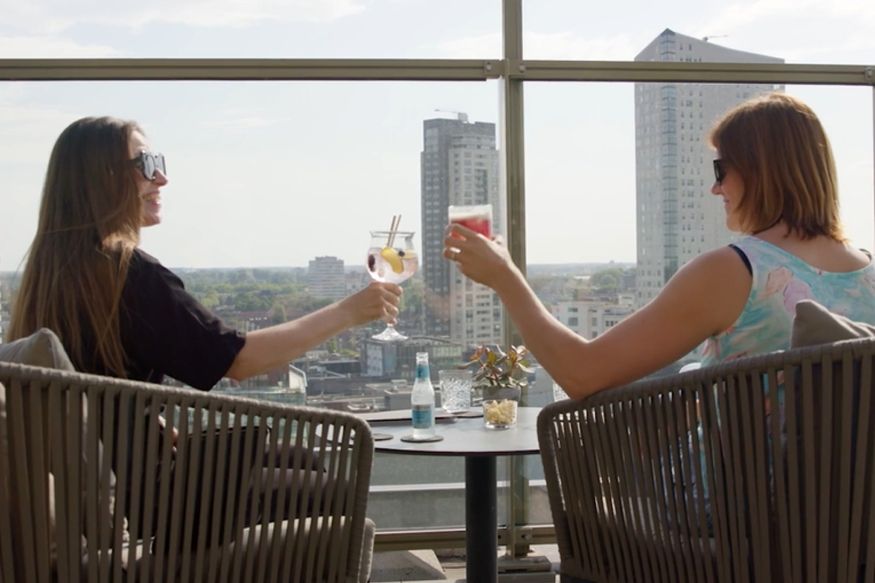 Like to go on a spontaneous trip to Eindhoven by train? Yes, you do! NBTC's 'Bring Yourself' campaign gave passers-by at Antwerp Central Station the opportunity to do so. A hologram by none other than Bart Houben (Houben Worstenbrood, ed.) inspired Belgians with the rich offerings of the Netherlands. Two ladies took up the offer and traveled to Eindhoven for a program full of surprises.
On June 23, the Netherlands Board of Tourism and Conventions (NBTC) gave the official starting signal for the 'Bring Yourself' campaign in Belgium and Germany, in which three Dutch cities played a significant part. A Belgian and a German couple traveled to the Netherlands, The Hague, and the Floriade in Almere. In addition to the couple who traveled to Eindhoven.

Bring yourself. We'll do the same.
The NBTC campaign tells you: that the more you are yourself and show what you are made of, the more we can offer and surprise you. That makes your visit more beautiful, more prosperous, and more valuable. Charel van Dam, Marketing Manager NBTC: "With this campaign, we want visitors who want to and have the opportunity to feel part of the society. In this phase, we want to touch, inspire and draw attention to the Netherlands as a destination for as many people as possible with the help of powerful portraits of residents, entrepreneurs, or local heroes that provide a strong image of the Netherlands on an international level." NBTC tells the stories that are important for the destination of the Netherlands and its overarching positioning: "Solving Global Challenges together in an open inventive, and inclusive way. The NBTC will do this in 2022 by telling stories around three themes: Greener Cities, Cycling Lifestyle, and Dutch Design.
Bring yourself to Eindhoven
On June 23, Bart Houben invited two Flemish ladies as holograms to discover Eindhoven and to immerse themselves in design for 24 hours. They were expected at Eindhoven Central Station that same afternoon. With Houben Worstenbrood as their first stop, of course. They also sampled Down Town Gourmet Market and enjoyed the view at VANE Skybar. Then on to the renovated Piet Hein Eek, to end the day at Radio Royaal at Strijp-S.

The following day, after breakfast, there was a meet and greet with Piet Hein Eek himself. Motion Imagination Experience and Coffeelab were also part of the program. After that, they visited the Philips Museum, after which the ladies concluded the 24 hours at the Home of Design: Kazerne. Want to know how their spontaneous trip to Eindhoven went? You can find a compilation of their travel experiences here:
International campaign puts undiscovered places in the spotlight
The goal of this international campaign is to stimulate quality visits. Charel van Dam: "By this, we mean that we want to reach valuable international visitors who are open to an inspiring message and thus have a positive impact on the Netherlands as a destination. Together with partners, we are working on marketing activities that contribute to this sustainable destination; this also means that we are particularly highlighting other and lesser known places in Holland."

This campaign was a collaboration between NBTC and Eindhoven365. The other cities in the lead are The Hague and Almere. NBTC created this campaign from NBTC with Deutsche Bahn (DB), Holobox, The Hague Marketing Bureau, Almere City Marketing, Visit Flevoland, Floriade Expo 2022, and Eindhoven365.