Update
PSV Eindhoven City Store now open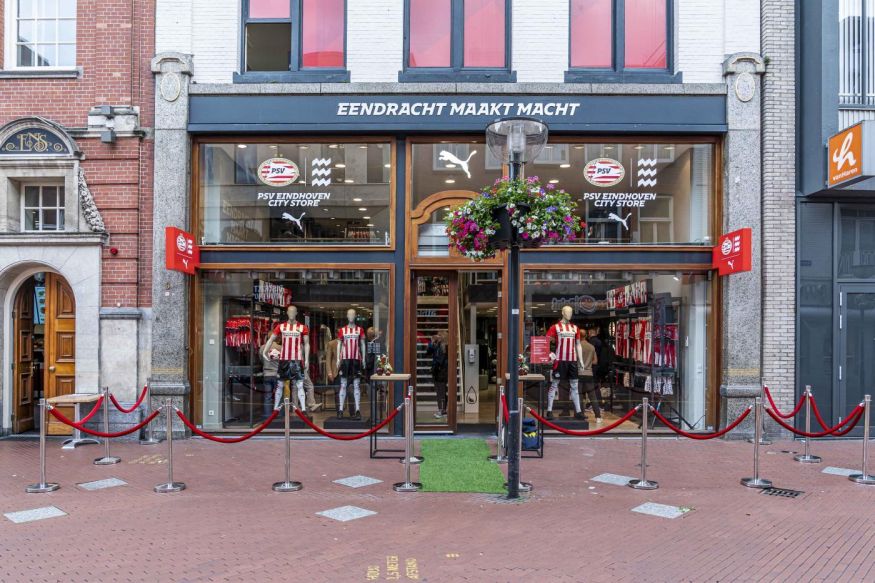 Today the official opening of the PSV Eindhoven City Store took place at Marktstraat 3 in the centre of Eindhoven. The store results from a unique collaboration between the brands Eindhoven, PSV, and Puma, the new shirt sponsor of PSV.
PSV Eindhoven City Store
PSV player Ryan Thomas officially opened the store. Besides PSV items, you will find our new clothing brand THE VIBE in the PSV Eindhoven City Store. THE VIBE consists of a basic unisex collection for adults and children, with t-shirts, polos, hoodies, sweaters, and accessories, like caps and tote bags. All designs are dedicated to the Eindhoven vibes.
A special collaboration
"For city marketing Eindhoven, the cooperation with PSV in a common retail environment is a fantastic prospect", says Peter Kentie, director Eindhoven365. "The brands PSV and Eindhoven come together in the heart of the city centre and thus visibly strengthen their bond and relationship with the visitors and residents of Eindhoven."
Innovation
What makes Eindhoven and PSV a match is the city and the innovative character of both parties. It is proudly expressed by, among other things, the eye-catching digital LED stairs in the middle of the store, on which videos are shown. In the coming period, a unique technology will also be applied to play videos on the glass of the store window. These innovative accents should become the eye-catchers of the store.